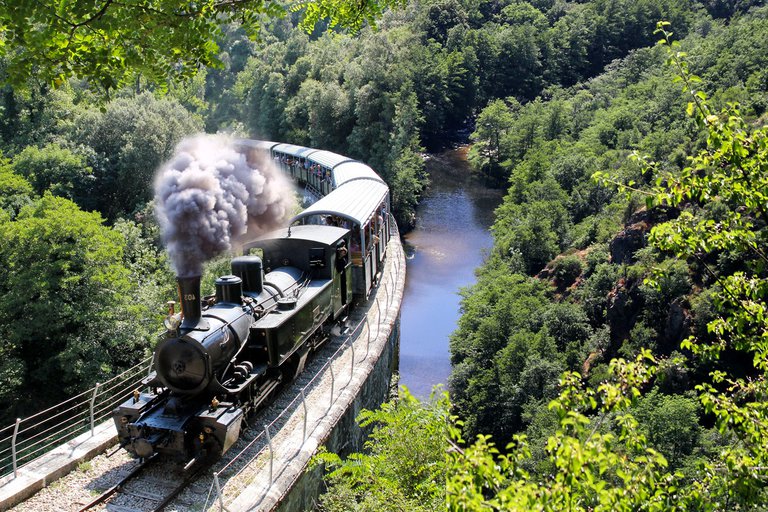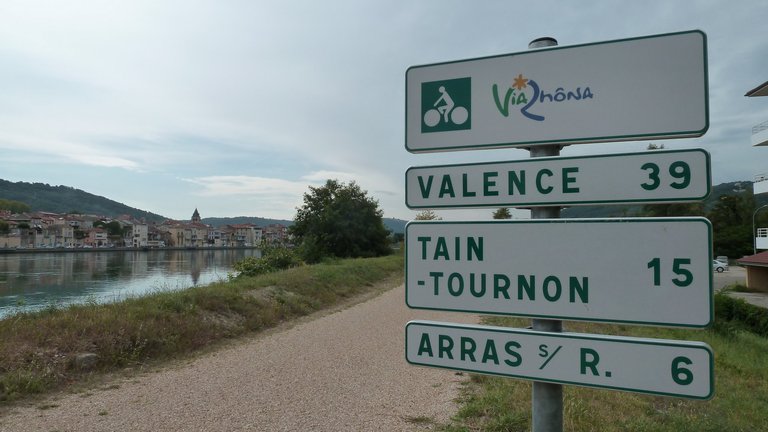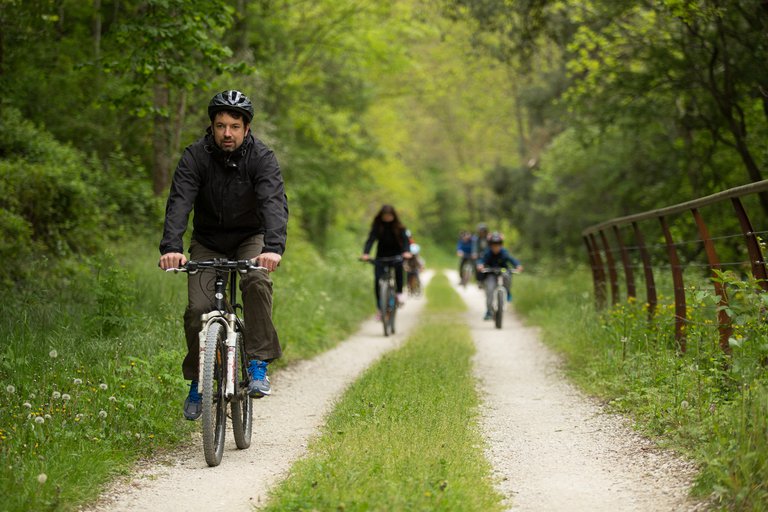 Take time to discover the two emblematic valleys of the Ardèche: the Doux and the Eyrieux. A 100% cycle tour at the heart of the Ardèche – a real holiday break!
Day 1: Saint-Jean-de-Muzols > Lamastre (28 km by train)
Here's an original way to get to this beautiful region: on board the Ardèche tourist train!
Make your way to the station of Tournon /St-Jean de Muzols in the morning (times vary according to season) for a ride in an authentic steam train! You can take your bike with you or hire one in Tournon-sur-Rhône and return it on your way back.
Lamastre awaits you, with its many and varied activities – escape games, orienteering, or, if you feel like a dip, bathing at Retourtour! Two accommodation providers here are part of the Accueil Vélo cycle tourism scheme and there are plenty of other holiday cottages and B&Bs in and around Lamastre.
Day 2 : Lamastre > Le Cheylard (20 km)
Time to get on your bike and onto La Dolce Via! Train services on this stretch ended in 1968 and the rails were removed, opening the way to exploration by bike. This section takes you through luxuriant vegetation as far as Le Cheylard. You'll cross numerous bridges along the way, and go through the longest tunnel on La Dolce Via (320 metres).
When you arrive at Le Cheylard, take some time out at Eyrium outdoor swimming pool not far from the cycle path (towards Pont-de-Chervil) or the discovery of the Arche des Métiers.
Day 3 : Le Cheylard > Pont de Chervil (15 km)
The third day, you embark on the gentle descent towards Pont-de-Chervil. Make the most of the wildness of this stretch to discover the typical trees of the region: Scots pine, holm oak and chestnut trees, which prosper in the Mediterranean climate.
On arrival, you can buy a meal at the food truck which comes regularly to the village. While away the evening in your overnight accommodation in either Gluiras or in Chalencon, a Village de Caractère.
Day 4 : Pont de Chervil > Les Ollières-sur-Eyrieux (15 km)
After a hearty breakfast and a final gaze at the extraordinary panorama surrounding these villages, it's time to get back on your bike. La Dolce Via takes you a little farther down the Eyrieux Valley, with a stop at St Sauveur de Montagut, where you can take advantage of the shops and local restaurants, or even visit the craft jewellery workshop. In the afternoon, be adventurous!  The rope course awaits you for an athletic afternoon above the waters of the Eyrieux! Or let yourself be tempted by a trip down the river by canoe or kayak.
Day 5 : Les Ollières-sur-Eyrieux > La Voulte-sur-Rhône (20 km)
After having spent the night around Ollières-sur-Eyrieux, you're ready to start your final day in this beautiful valley. On the programme: a visit to Chambonnet goat farm (from April to October, visit and sale from 9h to 12h and from 15h to 20h), a picnic by the mini-stadium or a restaurant meal in Saint-Fortunat. And why not take a wellness break and a massage in one of the wellness centres close to the cycle path?
At the end of the day, you can admire the local architectural heritage, such as the former footbridge of Pourchaire, staying overnight in Saint-Laurent du Pape or La-Voulte-sur-Rhône.
Day 6 : La Voulte-sur-Rhône > Tournon-sur-Rhône (50 km)
Today, it's off to the ViaRhôna ! A change of décor awaits you on this itinerary, which takes you through the attractive towns of the Rhône Valley back to your point of departure. Alternatively, you can travel by public transport to Valence (line TER 73) and from Valence to Tournon-sur-Rhône (line 3+, Le Sept coaches) back to your vehicle.
And so ends your tour of discovery through these two atypical valleys of the Ardèche, the Doux and Eyrieux.
Share your most beautiful photos and opinions with us! #LaDolceViaArdeche