Travelling by bike on a greenway is always an enriching experience: a way of seeing the country at your own pace, close to nature. But when the first child arrives, some people think, wrongly, that they should put this passion aside: a big mistake! As the saying goes, travel is for the young, and this is true at any age. Eager for new experiences, your children will be more than happy to accompany you on a family bike tour. With organisation and the right equipment, this adventure will be one of the memories they will treasure for the rest of their lives... and will undoubtedly be the start of a long series! Get on your bike and follow the guide: we give you 5 keys to set off on the Dolce Via with your family in complete peace of mind!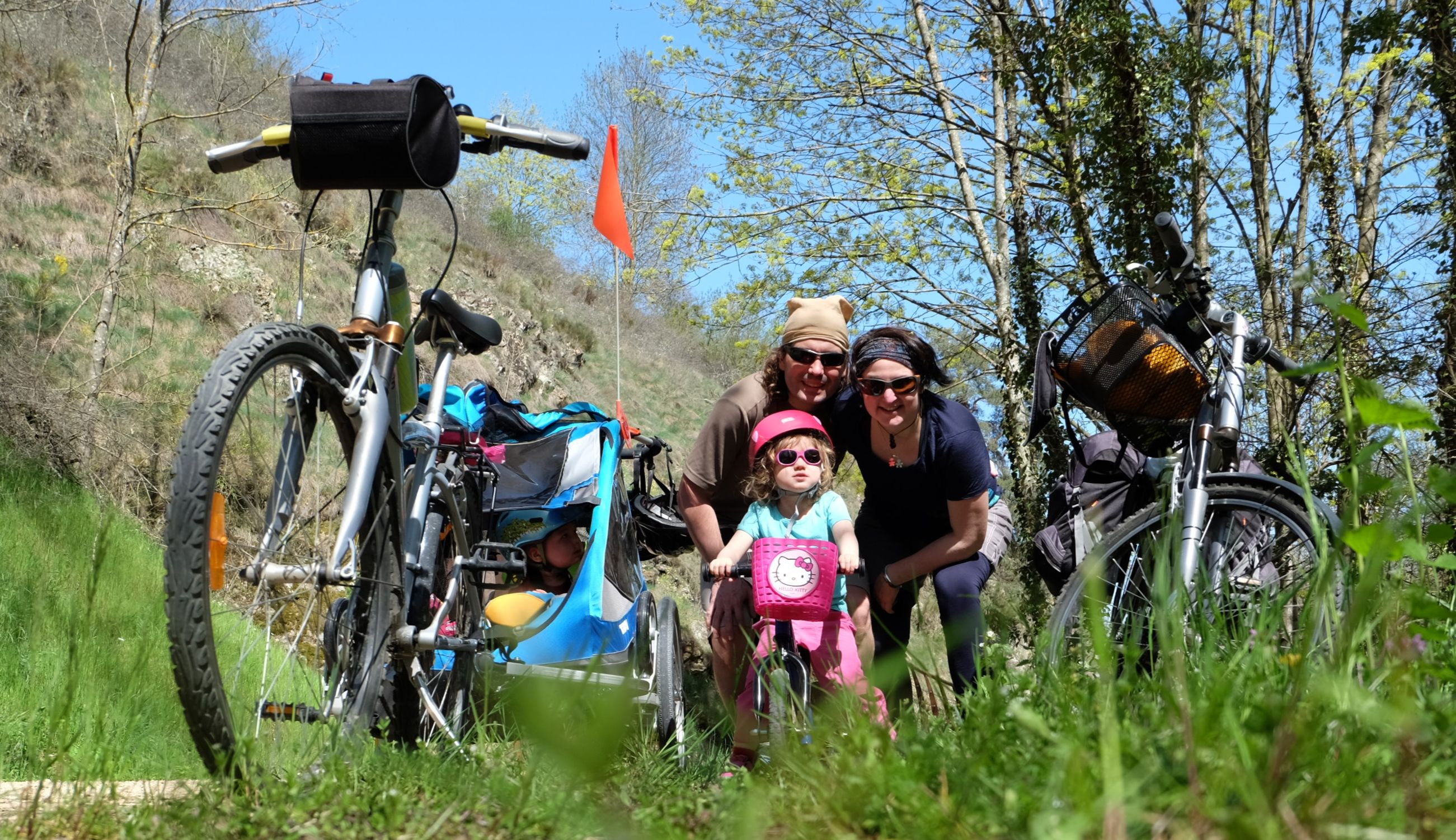 La famille Verchère, ambassadors of Les Petits Baroudeurs
Safety: an essential point for a family cycling tour
Protecting yourself and your offspring is the first priority if you want to go cycling with peace of mind: that's the basis! Helmets are of course essential equipment, both for you and for your dear blonde head. Yes, since decree no. 2016-1800, which came into force on 22 March 2017, children under 12 years of age must wear a helmet, whether as driver or passenger, on their bike or in a trailer. There are helmets of all sizes, for babies and older children. Choose a helmet that fits your child, by measuring their head circumference, but above all one that is light, for greater comfort.
Then, if your child is a passenger, in a seat or in a trailer, it's like in a car: you have to fasten the belt. A 5-point harness is preferable, if possible soft and padded to avoid any risk of irritating your child's delicate skin.
Finally, in order to be able to ride in complete peace of mind, you need to be sufficiently visible on the road and this requires various signalling accessories such as a reflective waistcoat for you, a pennant for the trailer as well as lights or reflectors on the front and rear, reflectors on the spokes, or even a spacer, which will keep cars or other bicycles passing you at a distance.
Towing your child: the different solutions
There are three possibilities for your child to cover the miles without getting tired. The first, for the smallest, is the bicycle seat. Ideal for short journeys, it is less comfortable and safe than a bicycle trailer for touring over several days. For this second option, you can choose a single-seater trailer if you are on a tight budget, or a two-seater trailer, which allows you to carry more stuff if you have only one child. As for the number of wheels, this depends on the routes you will be taking, so it is important to consider your route before you buy. Two-wheel trailers are made for the road or for paths that are not too rough. Some models, from Croozer and Thule for example, can be converted into a city or sports pushchair: ideal if you want to walk around on foot during your stages! If you're travelling on more bumpy roads, however, a single-wheel trailer with suspension will offer more manoeuvrability and cushioning. If you want to know more about trailers, the blog Les Petits Baroudeurs has a complete comparison of the different models available.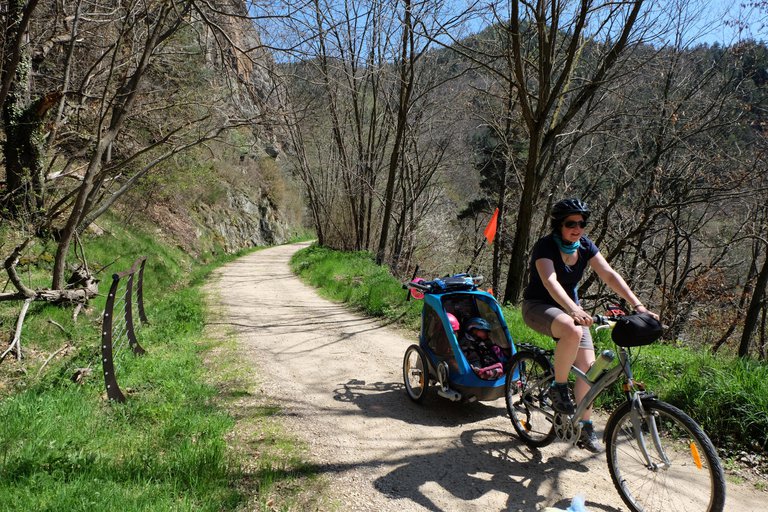 La famille Verchère, ambassadors of Les Petits Baroudeurs
The last solution is the tow bar, more specifically the Follow-Me system, which is the most stable and secure system on the market today. Your child's bike is attached to your rear wheel and his or her front wheel is slightly lifted off the ground. But this solution has its limits: while it is ideal for older children who can also pedal for several kilometres, sitting for 2-3 hours or more may not be comfortable for younger children. The trailer is therefore preferable. It also has the advantage of being able to shelter your little one when it's raining or too hot: rain covers, sunshades or a mosquito net are a must to deal with any weather eventuality!
The choice of clothes, a detail that matters

Going on a cycling tour means being exposed to the vagaries of the weather, even in summer! To ensure that your adventure on the Dolce Via goes smoothly, you need to have clothes that will allow you to brave the elements: the right equipment can radically change your family cycling adventure!
You hope for good weather: it's so nice to ride in the sun! But beware, UV rays are a danger. In addition to sun cream, anti-UV clothing or simply technical clothing to protect without overheating is essential, not forgetting glasses for your little ones, with headbands for babies and normal temples for older children.
To counter the rain, for children and adults alike, always have a waterproof windbreaker jacket to hand: the weather can be so changeable that you may not have time to look for the necessary items in the depths of your panniers or your trailer. It will also come in handy if the weather is a bit cool in the morning or evening, or if there is a slight breeze.
As for your child, don't forget to cover him or her well: if the mercury rises quickly while pedalling, he or she is immobile and feels the outside temperature. The "onion" technique is the most effective. So plan three layers, namely :
- a first, breathable and soft layer: think of thermal underwear;
- a second layer that retains heat, such as a fleece jacket;
- a last layer, if necessary, that cuts out the wind and rain, a waterproof jacket for example.
For the little ones in tow, a footmuff is the easiest way to make sure they don't get in the way and that they are warm.
Of course, a good quality padded cycling shorts is necessary for you and your child if they are also on a bike!
Life on the road: in practice!
Now that you know what equipment you need to ride the Dolce Via with your little ones, there are still practical questions to be answered. Because it's all well and good to cycle with your family, but how does it work in practice?
First of all, you will have to sort out what you are going to take and what you are not going to take: every gram to be towed counts, believe it! You must therefore go for the essentials:
- For hygiene, think of solid, space-saving cosmetics. A bar of soap, a solid shampoo and a few wipes or gloves for a quick wash between two showers are a good solution. As far as nappies are concerned, the problem is more complicated: disposables do not require too much organisation, except for a sufficient stock to last a few days, and washable nappies, which are much more limited in number, need to be washed... Which can be complicated when travelling. Disposables are probably the most practical, although not the most ecological;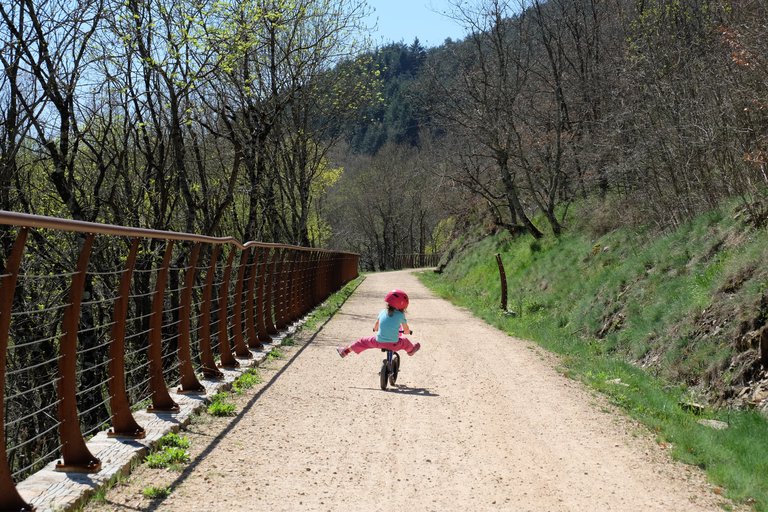 La famille Verchère, ambassadors of Les Petits Baroudeurs
- For injuries, a first aid kit is essential, especially with a baby: bandages, mosquito repellent, but above all a thermometer and antipyretic should be included;
- As far as food is concerned, plan a few meals at most, if you cannot get supplies between two stages, which are easy to prepare, without forgetting some sweets. It is best to do your shopping on the road;
- For sleeping, several solutions exist, from bivouacs to nights in hostels or hotels. If you have to carry equipment to pitch a tent, it means you'll have more weight on the bike... but you'll be much freer to stop wherever you want to rest. Finally, mixing the two is also a solution to get some comfort. Or try the WarmShower community, which can be a great resource;
- to keep your little one busy: the trailer is fine, but your child can't do anything with it. If the landscape will keep him busy, as well as a few naps, he may quickly get bored: take a backpack filled with a few toys and a cuddly toy to keep him entertained, which you will have taken care to prepare with him!
Then, to transport all this equipment, you can use panniers, rather on the rear wheel, and waterproof in case of rain, or use a trailer. So much for the practical side.
You think that's all? Well no: there is the repair material. Because yes, we're not going to lie to you, you are not safe from having a little incident... Or two! So carry with you, on your frame for example and in a bag under the saddle, a tyre lever, spare inner tube, bicycle pump. And train before the start so that you know how to use them on the day!
You are ready... or almost ready: the final preparations

Now you have everything you need to enjoy your family cycling trip on the Dolce Via with peace of mind! Before you start pedalling :
- test everything: your loaded bike, the attachment of the trailer, the storage of your belongings, in short, everything that should not be left to chance. The best thing to do is to start with a short weekend trip;
- plan your journey, leaving yourself some room for manoeuvre to deal with unforeseen circumstances (puncture, bad steering, etc.). It should be punctuated by breaks and your daily route should be reasonable, i.e. about 50 km: with children and weight to pull, this is quite enough!
That's it for the basics! There are bound to be things you forget: either you learn to do without them, or they will come in handy for future trips. You have to accept that travelling by bike has a share of the unknown and unpredictable, albeit relative: this is also what makes the charm of cycling with your family on La Dolce Via!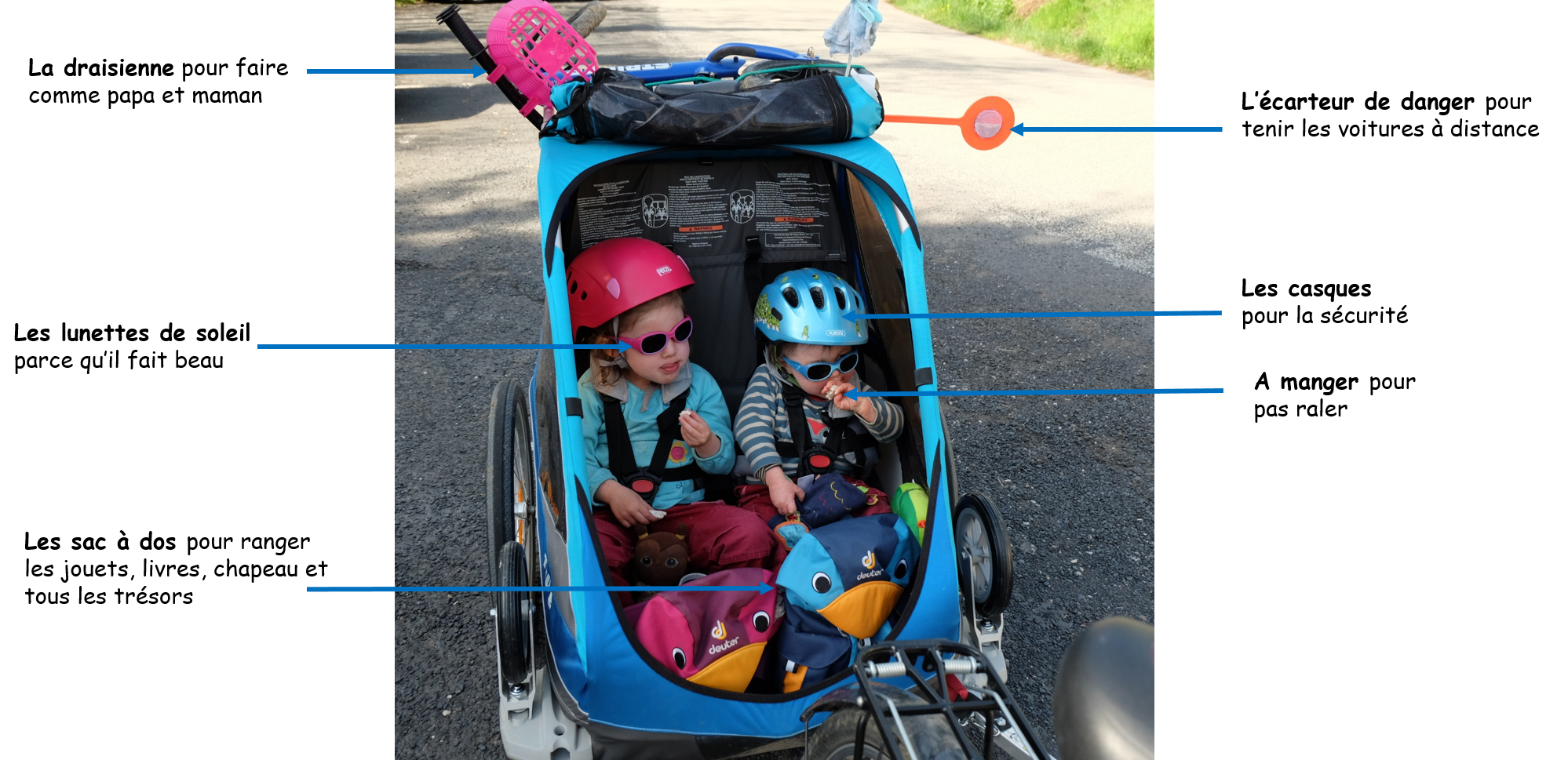 La famille Verchère, ambassadors of Les Petits Baroudeurs
Some activities to do with the family along La Dolce Via :
Pays de Lamastre
- Le Mastrou - Train Touristique de l'Ardèche (Saint-Jean-de-Muzols - Lamastre) allows you to make a loop Train - La Dolce Via - ViaRhona
- In Lamastre, come and discover the town thanks to the permanent orientation course or theRail Enigma: "The Mastrou Driver's Investigation" and enjoy a swim in Retourtour if you feel like it.
Ardèche Hautes Vallées
- In Le Cheylard, you can enjoy a moment of relaxation at the Eyrium bathing area located near the road (towards Pont de Chervil) or discover the Arche des Métiers and Maison du Bijou. 
- In Saint-Martin-de-Valamas, the Atelier du bijou offers you a total immersion in the Murat factory to discover the thousand and one treasures of the jewellery valley.
- In Saint-Agrève, Le Chemin de Fer Historique - Le Velay Express allows you to join the Via Fluvia, the cycle route between the Rhône and the Loire.
Ardèche Buissonnière
- In Pont de Chervil, le Quai des Haltes located at Chalencon station offers you a playful (escape-game), refreshing and gourmet (snack/boutique) stopover.
- In Chalencon, the association Ânes sans frontières proposes walks with donkeys from the village of Chalencon.
- In St-Sauveur-de-Montagut, have fun at Aquarock Aventure, an adventure park above the water and on the rocks (from 2 years old) and taste an ice cream at Terre Adelice, artisanal ice cream production in the heart of the Ardèche.
- In St-Michel-de-Chabrillanoux, listen to the sound work that looks at the presence of the mills at the"Ancien arrêt de gare d'Issantouans".
- Les Ollières-sur-Eyrieux: How about a canoe trip down the Eyrieux river with slides and rapids? Go to Eyrieux Sport.  Then, have fun with your family in the water park with its 7 slides, 1 spashpark, 2 heated pools in this family campsite Eyrieux Camping.
- In La Voulte-sur-Rhône, go "In the footsteps of Régis the miner" and discover the old village of La Voulte-sur-Rhône by following Régis in the time of the foundries (19th century).
- Along the entire route, go in search of the forty or so caches spread out along the way by practising Géocaching.
To see all the activities:  : click here! 
Article in partnership with the website
Les Petits Baroudeurs