What kind of surfacing does La Dolce Via have?
La Dolce Via has different coatings depending on the section. Most sections have a semi-hard, sandy surface. Some sections, especially those serving homes or farms, have more hard-wearing asphalt surfaces.
The interactive map shows you the different surface coatings, all of which can be used by hybrid bikes, mountain bikes and walkers.
Are there safety amenities?
The entire route has been made safe, primarily by means of guardrails and barriers regulating access, as well as appropriate signage. As yet, there is no dedicated route through Ollières-sur-Eyrieux. You cross the town either by bike on the main road or on foot using the pavements.
Besides this specific location, La Dolce Via crosses the main road at four places:
La Roche (upstream of Saint-Sauveur de Montagut)
Moulinas (1km upstream of the village)
Intres
Nonières (1km upstream of the village)
Be careful!
What does "voie douce" mean?
As a voie douce (a type of road defined in the French Highway Code), La Dolce Via is intended primarily for non-motorised means of transport. It is not a voie verte (as defined in the French Highway Code), as it also serves houses and businesses, and motor vehicles are permitted in certain places.
Where can we leave the bikes safely?
Self-service "Vélo Boxes" are installed at the Pont de Chervil, La Voulte-Sur-Rhône and Saint-Laurent-du-Pape. They are equipped with an electrical outlet to facilitate the recharging of electrically assisted bicycles. They are easy to use since the cyclist uses his own lock to close them. These boxes can contain from two to four bikes.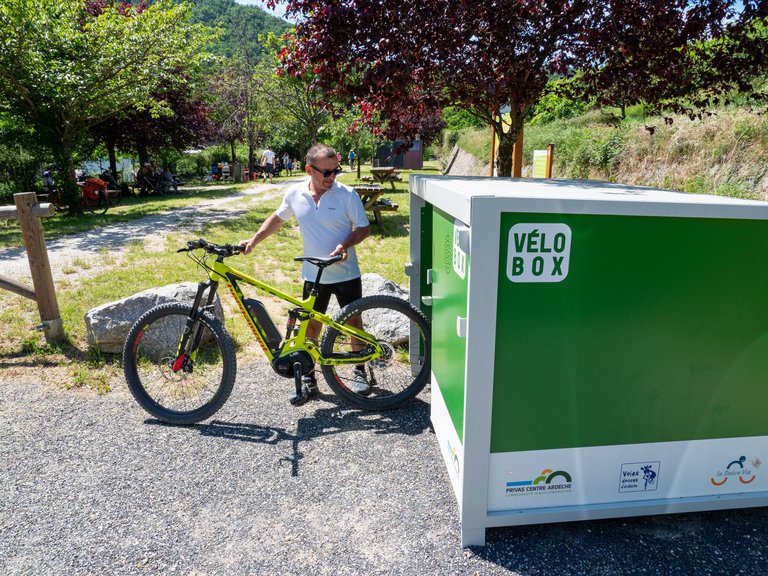 © Paul Villecourt / outdoor-reporter.com
Where can I recharge my electric bike?
Can I bathe along La Dolce Via?
Bathing is permitted solely at the spots with specific bathing facilities close to the track.
Click to find all the places for bathing here
What is the difference in altitude along La Dolce Via ?
The difference in altitude for each itinerary is provided in the Itineraries section (see below). It is also given in the La Dolce Via brochures available in the tourist offices or on this website in the Brochures & Maps section (see below).